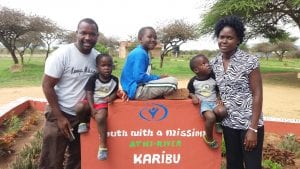 We have been in YWAM since 2002. We met in YWAM and got married in 2007. Since then we have  continued serving as  staff in YWAM Athi River. We have been blessed with four kids Anastacia, Ray, Rapha and Rhema.
God has privileged us to serve  in different areas.
We have been working with DTS.  It has been a joy working with young people who God brings to us on our schools. Joram currently is  part of YWAM Athi River base leadership team and he also serves in national leadership team of YWAM Kenya.
In 2014 Joram got an accident that resulted in him being an above knee amputee. God opened our eyes towards the hurting world because of disabilities and we decided to start a ministry towards people with disabilities called Love Disabilities.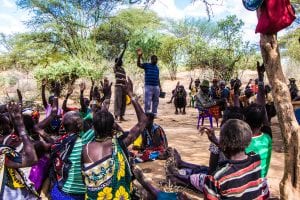 We are also working with unreached people groups in Kenya, especially the Pokot community. We are currently pioneering a YWAM base in west Pokot. We are helping the young Pokot girls by rescuing them from Female Genital Mutilation (FGM) and by taking them to school. Our vision is to build a rescue center for them as we reach out to the vulnerable girls in the society.
For more information about the this ministry visit www.wildfireministrieskenya.org.
It's a privilege to serve Christ!
In case you'd love to contact us for any information, feel free to email  us through  joramkingori@yahoo.com  or WhatsApp +254723712883.