Dear readers,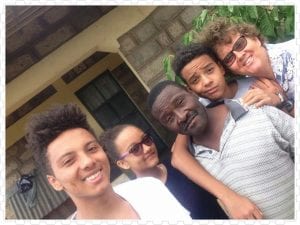 We have been in YWAM Kenya since 1985/86. We met in YWAM Mombasa in 1988 and got married in 1994 and have three children. Our oldest Salem is 19 and did his DTS in South Africa before entering university in Kenya in October 2016. The other two, Larissa and Karama are both in Highschool. Larissa finishes the end of this year and Karama not quite half way through.
I, Ismail handle most immigration matters for YWAM, Kenya and attend to other legal matters, trying to have YWAM Kenya aligned with ever changing government requirements. Such as yearly audit submissions, annual society meetings and yearly payment of returns etc. I am also leading worship at the base and sometimes in the DTS and when need arises I do simple plumbing at the base.
I, Karin have been on a sabbatical since January 2016, after having received serious recommendation by my mentor during the leadership development seminar in November 2015. I am slowly re-entering but mainly with DTS part-time staffing as I pray for further guidance.
If you have questions or want to talk to us or encourage us feel free to reach us on:
the5keas@gmail.com or WhatsApp +254-723 981 819